Betsy Ross Light Roast
Utilizing our Single origin Colombian coffee, we roast her light and airy, sweet light chocolate, lemon zest and stone fruit, this coffee is very light in acid but full-on body and flavor. Betsy Ross is a fan favorite across the country, not just for the caffeine levels but for the smooth daily drink of choice.
Cupping Notes
Medium Acidity and Body, Black Currant, Grape, and Nutmeg, Very Complex Coffee.
Cultivation
Grade: Excelso 17/18 Region: Colombian Coffee-Growers Axis (Caldas, Quindio, Risaralda & parts Tolima) Altitude: 1,400 – 2,000 M above sea level.
Coffee For Patriots
That Actually Tastes Good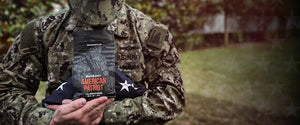 When you're enjoying Minutemen Coffee, you're helping Americans...
Looking For A Different Roast?
Other Minutemen Coffee Best Sellers